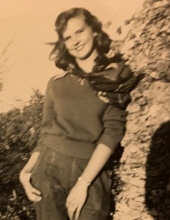 Obituary for Bobbie Williams Johnson
Bobbie Jean Williams Johnson, the fourth of ten siblings was born august 19, 1933 to Vina Puckett and Amos Clay Williams. She and her family resided on a picturesque knoll overlooking the Kentucky River in Irvine Kentucky until the flood of 1937 took their home and all of their earthly possessions. The family then relocated to Railroad Street where she lived until she married Gene Johnson in 1953. From this union were three children; Robert "Skip" 1954, Richard Lee 1956, and Patricia Rae 1960.
Bobbie was a stay at home mom until her youngest entered school. She then took a job as an aide at Irvine Grade School where her co-workers recognized her intrinsic teaching abilities. They encouraged her to enroll in college- which she did after obtaining her GED. She graduated from Eastern Kentucky University with a teaching certificate in Elementary Education grades 1-8. During the summer months between school years she gave swimming lessons and tutored in Reading. She retired from the Estill County Board of Education with 20 years of service. After retirement she lived at Doe Creek on a knoll overlooking the Kentucky River at lock 12.
Bobbie departed this earth on March 30, 2020 at her residence, Lee County Care and Rehab, Beattyville, Kentucky. She is survived by one son Robert "Skip" Johnson, one brother Wayne Griffin of Richmond Kentucky, one sister Glenda Wiseman of Irvine Kentucky; four grandchildren Robby Johnson, Jeremiah Johnson, Jessica Johnson, Chris Hobbs, and several great grandchildren.
She was preceded in death by her son Richard and daughter Patty, brothers Amos Williams, Melvin Williams, and sisters Dorothy, Mae Ross, Roxie Roundtree, Edith Dozier, and Marcella Cooper.
A celebration of live service will be held at a later date. Warren F. Toler funeral home will be in charge of arrangements.