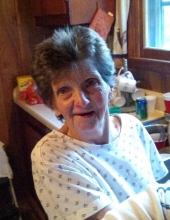 Obituary for Blanche Alcorn
Blanche Alcorn, 79, passed away on April 1, 2020 at 1:13pm at UK Albert Chandler Hospital in Lexington, KY.
Blanche was born at home at May 3, 1940 to John and Mary V. Rawlins of Irvine, Kentucky.
She married Sherman Alcorn on December 7, 1957. They had three children together: Floyd Henry, Sherman David, and Ronald Edward.
Blanche will reunite with many of her loved ones as she joins Jesus. Those loved ones include:
her husband Sherman, brothers JB Rawlins, Dan (Irene) Rawlins, Jim Rawlins, John Rawlins, Doug (Naomi) Rawlins, Hargus (Connie) Rawlins, and sisters Rose McKinney, Edna Hopkins, Bess Winkler, and Alice (Raymond) Winkler.
Survivors include her three sons: Floyd Alcorn of Irvine, Sherman David (Angela) Alcorn of Irvine, and Ronald (Kristina) Alcorn of East Peoria, IL. This also includes her honorary son James (Janet) McKinney of Franklin, OH. Also surviving are three sisters – Daphne (Earl) Alcorn of Carlisle, OH, Golden (Tom) Turner of Miamisburg, OH, and Irene (Doyle) Lay of Lexington. Blanche has 8 grandchildren: Crystal Alcorn, Meagan Alcorn, John Alcorn, Ashley (Jason) Townsend, Kaytlin Alcorn, Cortney Mitchell, Tiffany Alcorn, and Jeramie Alcorn. She has 12 great grandchildren.
Blanche worked for a short time at the paper mill in Miamisburg, OH. She also worked as a Caregiver. Her family was her number one priority in life. She enjoyed visiting with her family, gardening, writing songs, singing and cooking. One of her favorite things to do was see how people reacted to how fabulous her cooking was. Blanche could make anything taste good. She also took pleasure in reading her bible and discussing her faith in the Lord.
Private services will be conducted. Warren F. Toler Funeral Home is in charge of arrangements.