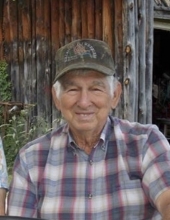 Obituary for Billy Eugene Cooper
Billy Eugene Cooper, 89, of Estill County passed away peacefully at his home February 24, 2023. He was born November 9, 1933, to the late Oscar and Effie Clem Cooper. He was a farmer and a retired employee of Bundy Tubing.
He was an active member of Salem Baptist Church, where he and his wife, Christine, broke the long-standing tradition of men and women sitting on opposite sides of the church.
He was a member of the Estill County Historical Society and the Oil Field Engine Society. He enjoyed his time with the Hillbilly Flywheelers, traveling to shows with "Woody & Granny" and making friends wherever he went.
He enjoyed gardening, farming, building houses, wood working, genealogy, and hunting Indian artifacts but most of all he enjoyed time spent with his family.
He was preceded in death by his wife of 64 years, Christine Stone Cooper.
He is survived by:
3 children: Marvin (Linda) Cooper
Pauline (Larry) Muncie
Raymond (Shurla) Cooper
7 grandchildren: Cynthia (Jerry) Townsend, Matthew (Kristina) Cooper, Alissa (Chan) Taylor, Nathan (Garrianna) Cooper, Jaime (Chris) Wallace, Kristie (Matt) Turner, and Lindsey (Josh) Rogers
14 great grandchildren: Cale Wilson, Carson Wilson, Drake Cooper, Caleb Taylor, Blake Wallace, Chase Wallace, Norah Cooper, Reid Turner, Kinley Taylor, Maci Turner, Myla Wallace, Abram Cooper, Cooper Rogers, and Laurey Rogers
Siblings: Ray Cooper, Wilma Jo Parsons, Nancy Rhodes, Virginia Withers, and sister-in-law, Doris Cooper
He was preceded in death by 4 brothers, William "Wig" Cooper, Henry Melvin "Hoss" Cooper, Owen Cooper, Arthur Lee Cooper and 3 sisters, Katie Hill, Minnie Sanders, and Clara Henry.
Funeral services will be conducted Monday, February 27, 12 PM at the Warren F. Toler Funeral Home Chapel with Bro. Jerry Smith officiating. Burial will be at the Sally Poer Cemetery. Visitation will be held on Sunday from 6 to 9 PM at the Warren F. Toler Funeral Home.
Pallbearers: Matthew Cooper, Nathan Cooper, Cale Wilson, Carson Wilson, Jerry Townsend, Chan Taylor, Chris Wallace, Matt Turner and Josh Rogers