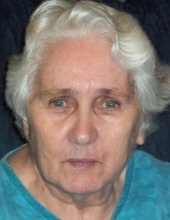 Obituary for Betty Ruth Turner
Betty Ruth Turner, age 87, of Hood Avenue in Irvine, passed away Friday, September 3, 2021, at her home following a short illness. She was born February 19, 1934 in Estill County and was the daughter of the late Dillard and Flora Dunn Horn. She was a homemaker and attended the Barnes Mountain Nazarene Church and later attended the Irvine Nazarene Church. She had lived in Estill County most of her life. She was preceded in death by her husband, Willy Drennan Turner and is survived by:
Her son: David Wayne Turner - Irvine
1 sister: Wilma Hoover - Irvine
2 brothers: Dillard Horn, Jr. - Irvine
Jeff Horn - Irvine
7 grandchildren and 17 great grandchildren
She was preceded in death by 4 children; Lisa Carol Jenkins, Franklin Lee Turner, Kenneth Ray Turner and Johnny Ray Turner, 2 grandchildren and 5 siblings; Ethel Denny, Lucy Dudney, Hester Hoover, Grace Cox and Garret Horn.
A memorial service will be held Wednesday, September 8, 6 PM at the Warren F. Toler Funeral Home.