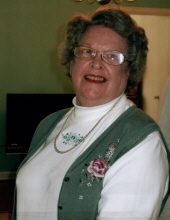 Obituary for Barbara Witt Vaughn
Barbara Witt Vaughn, age 89, of Red River Road in Irvine, passed away Tuesday April 23, 2019 at the Compassionate Care Center following a short illness. She was born December 24, 1929 in Estill County to the late Herbert and Frankie Wiseman Witt. She was a homemaker and former employee of Curlee Clothing Factory. She was a member of the Corinth Christian Church where she also played the piano. She was preceded in death by her husband, Odis Vaughn. She lived in Estill County all her life. She is survived by:
1 Daughter: Rebecca Rice - Irvine
1 Sister-In-Law: Otella Witt - Winchester
1 Brother: Herman Witt - Ohio
2 Grandchildren: Jeremy (Jeremy Cheek) Rice and Whitney Rice
Several nieces, nephews, and friends

She was preceded in death by 1 daughter; Charlotte June Vaughn, 1 son-in-law; Jerry Rice, 4 brothers; Howard Witt, Calvin Witt, Mitchell Witt, and Earl Randall Witt.

Funeral services will be conducted Saturday, April 27, 1 PM at the Warren F. Toler Funeral Home by Bro. Dennis Pasley and Bro. Linville Dunaway. Burial will follow in the West Irvine Cemetery. Friends may call after 11 AM Saturday at the funeral home.

In lieu of flowers, donations are suggested to the Hospice Care Plus Compassionate Care Center or to the Corinth Christian Church.