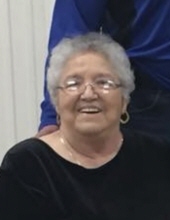 Obituary for Barbara Ann Woosley
Barbara Hensley Woosley stepped into heaven and into the glorious presence of our Lord and Savior Jesus Christ on Tuesday evening, November 22, 2022, with Walter, her love of 64 years by her side. Barbara was born in Middletown Ohio on December 4, 1940. Barbara was a strong and faithful Christian wife, mother, granny, sister, aunt, Mimi and friend to all who loved her. She loved the Lord and it showed in the way she loved and cared for others. She had the warmest, most hospitable nature, always putting others first. She love to give of herself to all those around her. Barbara loved her family and loved deeply.
Barbara was preceded in death by her parents Elmer and Mildred Hensley, a sister Nancy Williams and two brothers Steven Hensley and Larry Hensley. She is survived by her husband Walter (Achie) Woosley, her son Walter Scott (Susanne) Woosley, her daughter, Kimberly Ann Woosley, two grandsons, Daniel (Sami) Woosley & Jacob (Jamie) Woosley. Four great-grandsons, Julian, Alistair, Emrys & Oliver and three great-granddaughters Harper, Remi and Kenley. She is also survived by her sisters, Bettye Rose, Peggie (Herman) Abney, Brenda Webb, Patricia Carol (Bill) Wilson & brothers Charles (Carol) Hensley and Jeff Hensley, and brother in-law Billy Joe Williams and sisters-in law Evelyn Hensley, Nancy Hensley, Treva Wavolene Woosley Prather & Emma Woosley As well as an abundance of treasured nieces, nephews, great-nieces and great-nephews.
A celebration of her life will be held on Saturday, November 26, 2022, at First Baptist Church in Irvine, Kentucky with visitation from 11 to 1 PM and service to follow at 1:00 PM. A brief graveside service will be held immediately following the church service at West Irvine Cemetery. Pallbearers and Honorary Pallbearers will be Daniel Woosley, Jacob Woosley, Julian Woosley, Tyler Hensley, Brad Abney, Dennis Rose, Austin Hensley, Bryan Prather, Mike Prather, Tim Woosley, and Justin Woosley.
Donations in her memory (in lieu of flowers) would very much be appreciated to: Compassionate Care Center, 350 Isaacs Ln, Richmond, KY 40475.