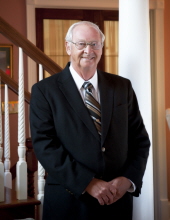 Obituary for Arthur Gene Ballard
Arthur Gene Ballard, age 77, of South Winn Avenue in Irvine, passed away Tuesday, January 1, 2019, at Baptist Health Richmond following a short illness. He was born September 29, 1941 in Estill County and was the son of Vicie Smyth Alcorn and the late Lonnie Ballard. He was a retired locomotive engineer with CSX Railroad and a member of the Ravenna Church of the Nazarene. He was a past President of the Irvine-Ravenna Kiwanis Club and was a loyal supporter of Engineer Athletics. He was preceded in death by his wife, Janice Karen Muncie Ballard. Survivors in addition to his mother include:
2 Sons: Arthur David (Shonna) Ballard - Estill Co.
Randall Ballard - Estill Co.
3 Grandchildren: Whitey (Cory) O'Keefe, Machaela Ballard, Mariah (Tyler) Douglas
Funeral services will be conducted Friday, January 4, 1 PM at the Ravenna Church of the Nazarene by Rev. John Anderson and Rev. Warren Toler. Burial will be at the Sunset Memorial Gardens. Friends may call between 6 and 9 PM Thursday at the Warren F. Toler Funeral Home and after 11 AM Friday at the Church.
In lieu of flowers, donations are suggested to the Ravenna Church of the Nazarene Building Fund.
Pallbearers: Cory O'Keefe, Tyler Douglas, Adam Walpole, Warren Toler, Jr., Beatle Lisle, Steven Gross, Jeff Horn and John Nutter
Honorary Pallbearers: Phil Henry, Tom Henderson, Donald McIntosh, and the Locomotive Engineers, Conductors & Brakemen that he worked with in his over 40 years of railroading.